It's a great source to find new books to use with your students.
Last Week's Adventures
Looking for mysteries for younger readers? Make sure these books are in your libraries.
Teaching facts in fiction. Check out this hybrid series.
I'm so excited to introduce you to the Lady Pancake and Sir French Toast sequel - THE STINKY STENCH! Be sure to enter the giveaway for your chance to win a copy!
Picture Books
I Am (Not) Scared by Anna Kang
4/5 stars
Love Kang/Weyant books! They take great topics that are great to talk about with kids. Being nervous to try new things is the takeaway from this book. And the ending is very typical for young readers. Pair with Steven Weinberg's You Must Be This Tall for some fun read alouds.
Lexie the Word Wrangler by Rebecca Van Slyke
4/5 stars
This book will be so fun to read aloud, especially after reading A Snicker of Magic! Kids will enjoy seeing how the words are played with, I enjoy reading words like "cantankerous, varmint, lariat and shucks".
Poppy Louise is NOT Afraid of Anything by Jenna McCarthy
4/5 stars
Sweet story about Poppy Louise who doesn't seem to be afraid of anything until one day, she is. I like that once she find something that is scary, her friends and family don't make fun of her for being nervous. Beautiful illustrations by Molly Idle!
Little Wolf's First Howling by Laura McGee Kvasnosky and Kate Harvey McGee
4/5 stars
Perfect story for central message and lesson - what did Big Wolf learn from Little Wolf? Would be interesting to discuss how the lesson can go along with young readers lives.
Be sure to read the back jacket as you learn that the two collaborators for this book are sisters. While Laura wrote the story, they both worked on the illustrations.
Ice Boy by David Ezra Stein
4/5 stars
If you teach the water cycle, this book is a must. Not to use for teaching, but readers will be able to identify properties of the water cycle and will get a kick out of the humorous parts of the story.
You Can Read by Helene Becker
3/5 stars
If you have a conversation with your students about "reading in the edges", this would be a good book to start with!
I liked reading the titles of all the books the characters were reading in all different places. For example, the character reading while walking down the street was reading Fancy Foot Work. The character reading in his underwear had a book called Dress Down :)
Percy Dog of Destiny by Alison McGhee
3/5 stars
Young readers will love the voice of Percy as he goes about his day doing dog things with his friends.
Informational Texts
Dazzle Ships: World War I and the Art of Confusion by Chris Barton
5/5 stars
I got to read this book electronically and I cannot wait for August 1st to be holding this book in my hands. Absolutely beautiful. I immediately handed my laptop to a colleague who is very interested in the time period and she found the book fascinating. I'm thinking you'll have this book on some Mock lists this fall!
Poetry
Feel the Beat: Dance Poems that Zing from Salsa to Swing by Marilyn Singer
5/5 stars
Love these poems, told in words only Marilyn Singer can go - they slide, twist, turn and surprise you at every line break. I love the diverse dances and the diverse characters in the illustrations. These are illustrations (by Kristi Valiant) that I would've poured over as a young reader.
I like that a CD was included that could give young readers a feel for the beat of the music, but I wish it also had a downloadable code/site. Many young grades have CD players, but not all classrooms have them.
Bravo! Poems About Amazing Hispanics by Margarita Engle
5/5 stars
I love how Engle has chosen to spotlight more silent heroes - those heroes that we might now be familiar with. Unfortunately the library copy I had borrowed had some blank pages so I was not able to read all of the poems.
Thunder Underground by Jane Yolen
4/5 stars
Jane Yolen's poetry never ceases to amaze me. A collection of poems of all things that are "under". My favorite line from "Seeds" - "...this period at the end of winter's sentence..."
Middle Grade
The Wish List: The Worst Fairy Godmother Ever by Sarah Aronson
5/5
Loved this early middle grade novel and I'm so excited that it will be a series! Look for my review coming next week!
Currently Reading
York: The Shadow Cipher by Laura Ruby
I am amazed at how every detail is tightly woven together.
On Deck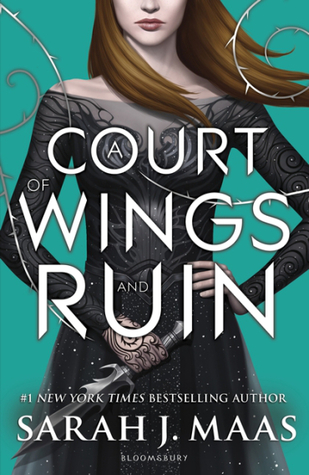 A Court of Wings and Ruin by Sarah J. Maas
Whoo hoo for Tuesday! Release day for this final book in the trilogy! I cannot wait to get back to Feyre's world! I am so sad this will be the last one. Has anyone read Maas' "Throne of Glass" series? Just as good? Should I check it out?
I also have loads of MG and YA just sitting around my house. Lots to get to with not much time to read! Ahhh!
What are you reading?