Every Wednesday I join Alyson Beecher from kidlitfrenzy and other
kidlit bloggers to share wonderful nonfiction picture books.
The intention of today's blog post is to give professionals that work in the
education field
new nonfiction reading material and ideas to use
with students to promote a love of reading nonfiction materials.
Some new animal books for your collections: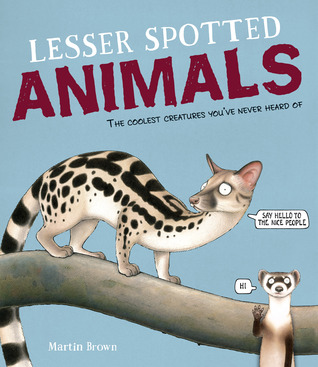 Lesser Spotted Animals
by Martin Brown
This book reminded me a lot of Jess Keating's Pink is for Blobfish with it's cheeky humor and animal facts. As the book says, tired of reading about the same animals in book after book? This one features animals you've never even heard of! Fun read.
The Secret Life of the Red Fox
by Laurence Pringle
This book reminded me a lot of Maria Gianferrari's Coyote Moon. I think readers of that book will enjoy diving into the life of a red fox - learning how and what it hunts and where and how it may live.
Fabulous Frogs
by Martin Jenkins
A nonfiction picture book that is a bit more accessible for readers. Featuring large and small print on each page. The larger print is a bit more decodable and gives the reader a brief fact about that type of frog. The smaller print gives additional information. This type of text can be read with or without the smaller print - I like that there are options for the different readers.
Feathers and Hair What Animals Wear
by Jennifer Ward
Good introductory text to discuss the NGSS standard of how animals use external parts to survive. Even with the sparse text (written in rhyme), there will be lots to discuss with young scientists! Good backmatter that gives additional information about each animal and its external part.
Give Bees a Chance
by Bethany Barton
I loved its predecessor (I'm Trying to Love Spiders), but I love this one even more. Filled with more facts, it really confronts the myth of bees are just known for stinging (ok, they still are), but all that they do for our world really is amazing!
What new animal books have you read recently?