This weekly post comes from Jen at
Teach Mentor Texts
and Kellee and Ricki at
Unleashing Readers
. It's a great source to find new books to use with your students.
Welcome to end-of-Bookaday-so-I'm-reading-everything-before-school-starts Part 2. Lots more books. Last chance for copious amounts of reading!
Last week's reading adventures
I thought about being Brave this school year. Being brave can look many different ways.
Step out of the box and try something new. Here's the post.
I reviewed Kate Messner's new book "Tree of Wonder"

.
I started to add The Day the Crayons Came Home in my Monday post, but it was so long it became its own post.
I reviewed a poetry/song book by Margaret Wise Brown Goodnight Songs: A Celebration of the Seasons and offered some suggestions how to use this book.
I didn't write much over the weekends this summer. This weekend I looked back at summer and celebrated all that summer was.
Picture Books
Whose Shoe? by Eve Bunting
4/5 stars
Eve Bunting and Sergio Ruzzier team up again for another wonderful book for young readers. Told in rhyme, this story is about a mouse who has found a shoe, who does it belong to? Perfect for younger classrooms.
I Hate Picture Books! by Timothy Young
4/5 stars
My friend, Kristen, told me I had to read this book, and she was right! For anyone who loves picture books, this is a must read. You'll laugh out loud, but then your heart will be warmed at the end. A must read for Nerdy classrooms!
Courage by Bernard Waber
5/5 stars
This one came from a #pb10for10 list. It's one of those books I just never read - fixed that! What a beautiful book. A great one for the beginning of the year. I think it goes along with my SoLSC post Brave.
Night Animals by Gianna Marino
4/5 stars
I had heard some book love for this one, but didn't really know what to expect. What I got was a treat. Laugh out loud moments and beautiful illustrations. I felt bad for poor little Possum, but he certainly gave me some laughs!
On My Way to the Bath by Sarah Maizes
On My Way to Bed by Sarah Maizes
3/5
Very cute stories about Livi, who has quite the active imagination. As any adult knows, usually from prior experience, calling a child to stop playing and do something can be
difficult. Livi has a fantastic imagination that calls up many things to do on the way to do that thing she doesn't want to do... take a bath... go to bed. There is a third book in the series, On My Way to School but it is missing from library currently.
Informational Texts
I got caught up in the "A ____ Is..." series by Dianna Hutts Aston. Each book is gorgeous but it's the way it's organized stands out to me. If you want to read my other post about these books, check it out here.
A Nest is Noisy
5/5 stars
I love how this book broadens young readers understanding of nests and that it's not just birds that make nests!
Most fascinating fact: "The temperature of the nest determines the sex of alligators." What??? That's crazy!
A Rock is Lively
5/5 stars
Illustrator Sylvia Long is at her best with this one - the rocks look beautiful in her watercolored illustrations.
Most fascinating fact: Rocks are used to make toothpaste!
Adult Reads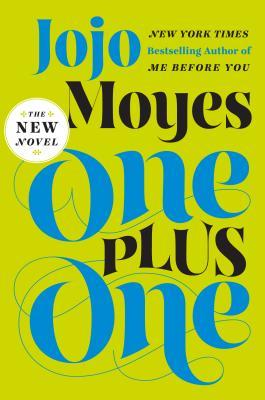 One Plus One by Jojo Moyes
4/5 stars
Jojo Moyes is my favorite adult author. Every book makes me think just a bit more. My favorite by her was
Me Before You
and I cannot wait for its sequel next month! I don't read adult books often, just a few each year. But these are must reads. I put this one off last year, I was trying to get caught up on my
kidlit, but I made sure it was on my #mustreadin2015 list. It was a great read, highly recommended!
A favorite part pg. 146 "You know, you spend your whole life feeling like you don't quite fit in anywhere. And then you walk into a room one day, whether it's at university or an office or some kind of club, and you just go, 'Ah. There they are.' And suddenly you feel at home."
Currently Reading
The Thing About Jellyfish by Ali Benjamin
Oh my gosh, my heart breaks for the main character, Suzy. It's a quick read and one that will appeal to readers who love heartprint stories. I love that the main character loves science. I'm not a science or math person, but I like seeing books that have these girl characters in them.
On Deck
Wonderstruck by Brian Selznick
then maybe....
Firefly Hollow by Alison McGhee
or
Serafina and the Black Cloak by Robert Beatty
I still need to get to The Honest Truth by Dan Gemeinhart, but I think it may be a bit heavy for the week school starts. I promise I'll get to it - it's on my #mustreadin2015 list!
Happy First Week of School!