This weekly post comes from Jen at
Teach Mentor Texts
and Kellee and Ricki at
Unleashing Readers
. It's a great source to find new books to use with your students.
First week of school! First week of school! I managed to get some reading in - back to "reading in the edges".
Last week's reading adventures
I celebrated the small things of summer that make me happy here.
With the 10th anniversary of Katrina this past weekend, I collected some great texts that tell the stories of this disaster in this post.
Have you read Wait by Antoinette Portis? It's a beautiful book. Read my review here.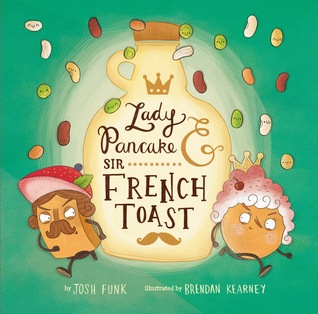 Finally, I ended the book celebrated the debut book of a very promising author, Mr. Josh Funk. Please pick up a copy of
Lady Pancake and Sir French Toast
and then check out some
teaching ideas here.
Picture Books
Ask Me by Bernard Waber
3/5 stars
This book is a cute story about a conversation that goes back and forth between a dad and his daughter. The little girl wants her to dad to ask her questions about what she likes which she goes on to answer. The story itself is just ok, but I think it would be fun to use at the beginning of the year to have students answer the question "what do you want me to know" or "tell me about what you like".
The illustrations in this book are beautiful, I love the colored pencil drawings.
Prince Fly Guy by Tedd Arnold
4/5 stars
I've grown to appreciate the Fly Guy series and what they do for readers. I've had many readers who needed "that" book and Fly Guy was the one.
Fly Guy helps Buzz write a fairy tale. Readers will recognize many familiar characters.
Informational Texts
How Jelly Roll Morton Invented Jazz by Jonah Winter
4/5 stars
The colors, the vocabulary, the way the phrases go together... This book oozes jazz as close as you can get to hearing it.
Good picture book biography of the man who was a pioneer of jazz music, Jelly Roll Morton.
Graphic Novels
Sunny Side Up by Jennifer Holm
4/5 stars
I love that Jennifer and Matthew Holm have teamed up for something a bit different than their usual collaborations. This time it's a loosely based memoir on their family, told in a graphic novel format. While the book may be seen as having a sensitive subject - a family member has a substance abuse problem - it is a conversation that can be had with readers. This could be a book that is important to a child. The issue at hand is dealt with in a sensitive manner and the subject matter is not the primary issue. Instead, the book rightly concentrates on the main character, Sunny, and her being put into a new setting - her grandfather's retirement community. Luckily she makes a friend and finds something that binds them as friends - comic books! Meanwhile, the reader can see that Sunny is conflicted with fitting in at her grandfather's while wondering if she was at fault with what happened at home. Holm deftly weaves the story between the present day and snippets of the past to let us slowly understand the events that lead up to Sunny's current living placement. I continue to be impressed with the work of the Holm siblings and their understanding of what books - in any format - can do for their readers.
Phoebe and Her Unicorn by Dana Simpson
4/5 stars
Another graphic novel, but definitely different than Sunny Side Up.
Originally started as a comic in 2012 that ran online, it has since made its debut in newspapers and now in books. The books chronicle Phoebe and her new best friend, Marigold Heavenly Nostrils, who is also a unicorn. More like a comic book I read as a kid - Peanuts, Garfield or Calvin and Hobbes come to mind - while the story somewhat has a flow, it really is meant as a strip and not one long graphic novel. Because of how familiar students are with graphic novels and the continuous story they provide, they may need some clarification when beginning a book like this. But, once they understand how the flow moves the story along, I think readers will get caught up with the humor and laugh-out-loud moments this book provides. I loved the banter between Phoebe and Marigold. Will be fun to see students appreciate the humor!

Squish #7: Deadly Disease of Doom by Jennifer Holm
4/5 stars
I love the way the Holm siblings integrate things into their books that make them fun.
With Squish, it's the added pieces of science. And Babymouse.
Middle Grade
Glory Be by Augusta Scattergood
4/5 stars
2016 Bluestem nominee
I read this one with my ears. And felt like Felicity Pickle was reading me this story! Cassandra Morris, the narrator for Snicker of Magic, narrated this one too.
What a great intro to Freedom Summer for young readers. Augusta Scattergood knows how to tell a good story.
Wonderstruck by Brian Selznick
5/5 stars
I've been very late to the Brian Selznick party. It's not that I didn't own the books, as evidenced from the Border receipt dated 2007.
I knew I wanted to get to the books so I made sure to put this one on my #mustreadin2015 list. And it was a Schneider Award winner and it was on our IL Bluestem nominee list last year.
Read it. Just like Hugo, it's simply amazing. I probably don't need to go into too much detail about the book since most of you have read it. If you haven't, run to your library! What amazes me about both Selznick books I've read so far is his ability to weave stories that span different decades or seemingly different characters together.
Now I'm onto...
Currently Reading

The Marvels by Brian Selznick
Yes, it's just as amazing. I'm more than 1/2 way through - almost the first 400 pages are his amazing illustrations. I know the story lines are going to come together I just don't know how and I want to get right back to the book now!
On Deck
A Night Divided by Jennifer Nielsen
Firefly Hollow by Alison McGhee
A Little in Love by Susan Fletcher
This book is told from the perspective of Eponine from Les Mis. I am a ginormous Les Mis fan and can't wait to start this book!
Coming later in the week is my review for this fun picture book. Check back on Thursday!

Happy Reading this week!