Save Me a Seat
by Sarah Weeks and Gita Varadarajan
Books told in different voices offer up something to the reader - different perspectives. It can make the reader learn something new about a character. Save Me a Seat is a perfect middle grade novel because the chapters are told in two different voices in alternating chapters. Adding in more voices can end up being too challenging for readers to remember the different characteristics. The two voices in this novel are contrastingly different, yet they both change enough to see each other's side.
There are two things I love about this book.
One, is the tagline. On the back of the book it says, "A new friend could be sitting right next to you." Can you imagine if kids today grew up with that in their mind? Keeping their minds open to everyone around them?
Second is the line, "Assumptions are often wrong." pg. 85. Something else we do, often without meaning to, is make assumptions about others.
Stop making assumptions. Keep your mind open. Make a friend.
Goodreads summary:
Joe and Ravi might be from very different places, but they're both stuck in the same place: SCHOOL.
Joe's lived in the same town all his life, and was doing just fine until his best friends moved away and left him on his own.
Ravi's family just moved to America from India, and he's finding it pretty hard to figure out where he fits in.
Joe and Ravi don't think they have anything in common -- but soon enough they have a common enemy (the biggest bully in their class) and a common mission: to take control of their lives over the course of a single crazy week.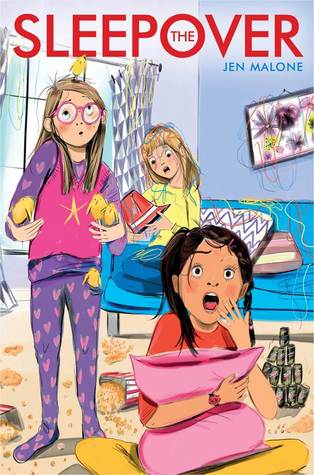 The Sleepover
One of my favorite things is finding books that I know kids are going to love. Books that will make them fall into the story and not stop reading. Books that make them want to talk about reading. Books that reach a wide range of kids. I'm excited to say I found one. Jan Malone's The Sleepover is a fun, non-stop adventure that will have kids laughing and reading in disbelief as one event after another in the story keeps going wrong. Full of things that, we hope, don't really happen to our children, it's those adventures that will keep kids reading. Things that they (hopefully) would not dare to do, but want to read about.
This book has been compared to the movie The Hangover and I can see why. Definitely a kids' version - and they will love it!
Goodreads Summary:
Though she's never done it before, twelve-year-old Meghan is determined to make it through lights-out at her best friend's sleepover. She's also ready to have The. Best. Night. Ever. and her friends Paige and Anna Marie are happy to bring on the fun. There will be miles of junk food, stacks of crazy-scary horror movies, and hours of karaoke smack-downs! Not even the last-minute addition of Anna Marie's socially awkward soon-to-be stepsister Veronica can dampen their spirits.
But nothing prepares them for the scene that greets them the next morning. The basement is a disaster, Meghan's left eyebrow has been shaved off and she somehow has the Class Bad Boy's hoodie, plus there's a slew of baby chicks in the bathtub! Worst of all, Anna Marie is missing.
Now the remaining girls have to piece together what happened the night before. There's just one teeny, tiny problem: None of them can remember anything past the two-bit act by the hypnotist Veronica hired as the party's entertainer.
Can they find Anna Marie and pull off the ultimate save-face . . . all before parent pick-up time? The clock is ticking, the clues are getting weirder and weirder, and only one thing is certain: last night got a whole lot zanier than games of Truth or Dare.
Look for The Sleepover on Tuesday, May 17th.
Hope you found a book or two to add to your collection!