Time to get ready for the weekend!
Kick up your feet and find a good place to read.
Sharing #booklove for your classroom or library.
Spotlighting a book or two because these books deserve the spotlight!
It's scary in today's world. I go about my day, thinking of all the things I need to get done. I have worries and concerns, but they don't weigh down my thoughts. But this is not the case for many people. And what is scary is that I am hearing about people on the news who have been killed when they too were going about their business. Getting things done, going about their day.
Why has this become the norm? Why is it on the rise? When will change happen?
I want to change things for the next generation and I want to change things now. I don't want to live wondering every time I turn on the news is I'm going to hear the words "mass" and it's paired with the words "killing" or "death" or "spree" instead of talking about church.
How do we change things? What can I do?
I work with kids. I work with the next generation. I work with kids who I want to see living in a world where they don't think about their concerns. I work with kids who I want to see a change in how they think about others. And when I think about what I can do to help that I think about books.
I want to teach

empathy.
I want to teach

kindness.
I want to teach

including all.
I want to teach looking at all

perspectives.
So I turn to books. If you want to make a change, use some of these books this year. Talk about being kind and including everyone and thinking about others' perspectives and having empathy for others. Books you might use:
The Change Your Name Store
by Leanne Shirtliffe
A Piece of Home
by Jeri Watts
Bluebird
by Bob Staake
Last Stop on Market Street
by Matt de la Peña
The Invisible Boy
by Trudy Ludwig
They All Saw a Cat
by Brendan Wenzel
Emmanuel's Dream
by Laurie Ann Thompson
Normal Norman
by Tara Lazar
My Two Blankets
by Irena Kobald
Strictly No Elephants
by Lisa Mantchev
Be a Friend
by Salina Yoon
Courag
e
by Bernard Waber
Toys Meet Snow
by Emily Jenkins
Ten Rules of Being a Superhero
by Deb Pilutti
T
o the Sea
by Cale Atkinson
If You Plant a Seed
by Kadir Nelson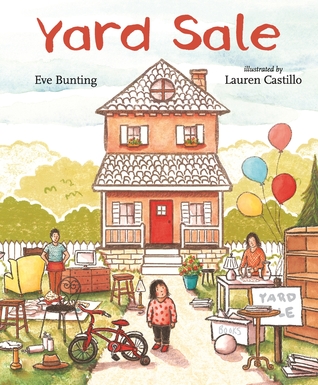 Yard Sale
by Eve Bunting
Freedom Summer
by Deborah Wiles
The Sandwich Shop
by Rania Al Abdullah and Kelly DiPucchio
Enemy Pie
by Derek Munson
Each Kindness
by Jacqueline Woodson
What books would you include to this list? If there is a title I missed, please include it in the comments, I would love to add to it!
Be the change. Start now.